Within the project ''Conversation in nature – Empowering women entrepreneurs'' with UNDP Kosovo, we are still continuing the session of visits planned in the project. However, we would like to share with you a special story of a very unique hotel.
During our visits, we had already visited wonderful places, yet we managed to discover this site quite coincidentally. This time it was quite different than the last visit we made, and we were excited to experience and learn new things. One day when our guide was hiking through Sharr Mountains in Dragash they noticed the new hotel and restaurant n'Bjeshke in the wild nature of Zaplluxhe village. This new hotel stands somehow alone but the warm hospitality of the staff and the wonderful mountain view made you feel completely different; you can't feel alone up there, you feel peaceful and very welcome.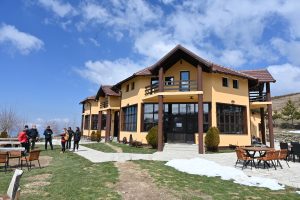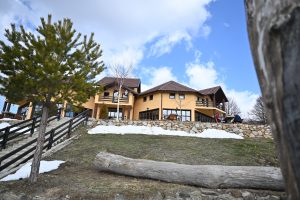 Among other things that made this place special and the main reason why we decided to visit this place is that this place is run by a woman Kaltrina Salihu, the hotel manager, and also reconstructed by Emonda Shefiku, an architect.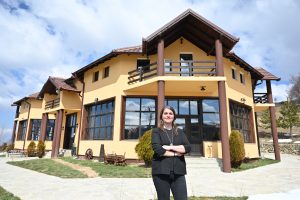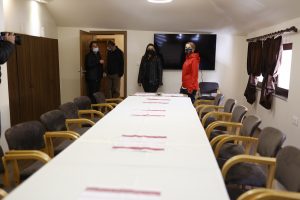 From the beginning of opening this hotel, they struggled and they had many doubts whether this place was going to have visitors or not. One day, the daughter who was studying abroad tells her father "that if you don't open the hotel I am not coming to the village anymore". So they blindly decided to go for it and now they are proud that they didn't give up. They told us more about the difficulties of managing the hotel during the pandemic and their future plans for development and recovery.
Now with the coming of spring, they hope that more locals and foreign people will visit them. And since the place is very big and has a lot of potential they are planning to open an education farm with a lot of animals so the kids who come to visit will have the opportunity to learn about the animals by seeing them closely. The village is located in the Dragash region, the area is rich with wild blueberries so to empower the local production and to keep the tourism chain they are planning to produce their own fresh homemade juice from the blueberries located in the area. They also have a lot more amazing ideas on how to keep tourism more sustainable and eco-friendly and they are eager to apply as soon as they get the necessary support.
It's very flattering to visit beautiful places that happen to be run by women. More so, in fields that are generally masculine jobs, to say. Places like these prove that women can make their contribution even in the highest peaks and rockiest mountains. That of course, if we as women set our minds and hearts to make our world a warmer and welcoming place.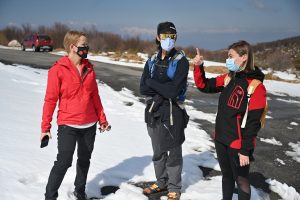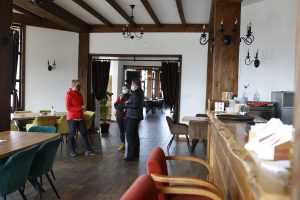 The number of women in tourism is increasing day by day and with the help of such projects Kosovo and its tourism hopefully will bloom. With the exceptional example of the n'Bjeshke hotel and restaurant, we hope that more tourism businesses will increase the percentage of their female employees and leaders.