These days, when we have been asked to stay home as much as possible, we all are looking for ideas that can make us feel productive. To those who are not used to stay home, they feel awful and found it hard to adapt: treasure this time and transform it into quality moments. It is in your hands to stop the spread of Covid-19. We have to look at the bright side and since we have more time than space we have to use it carefully and make it fruitful.
Butterfly has some wonderful ideas for ways you can be physically active indoors. Like exercises, yoga, and meditation are simple and yet, very rewarding ways. They help to maintain muscle mass, improving posture, boost stamina, and perhaps most importantly these activities help to relax the body both mentally and physically. From which we can all benefit these days.
Listed below you will find some exercises that are easy and do not require any special types of equipment.
This is another elementary school throwback, but it offers a great cardio workout. If you are watching a lot of Netflix these days press pause, get up and do a round of jumping jacks.
Legs Workouts: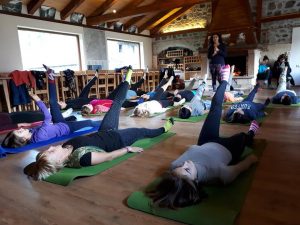 Squat: Try air squats, side step squats, sumo squats, jump squats, and even weighted squats. You can even try holding a large bottle of detergent to get some added resistance with your squats; just make sure the lid is on tight.
High knees: Instead of running in place, I've found that high knees can get your heart pumping, especially if you go double time. To do this exercise, march in place or down a hall, and bring your knees as high as they can go.
Lunges: Front lunges, back lunges, and even side-to-side lunges are an excellent exercise for targeting the large muscles of the lower body. For an advanced movement, try jump lunges to get your heart rate up.
Abs and Arms Workouts:

For spreading some positivity we can also use some dancing because is an excellent way to burn calories and get your heart rate going while having fun.

Inhale and exhale…
For those who always wanted to start yoga but there's just no time to go out and attend yoga classes on a regular. It seems that now is a perfect time to try Yoga at your home. The purpose of yoga is to build strength, awareness, and harmony in both the mind and body. As our beloved instructor Driada Matoshi says: "Yoga shapes you just like a rough diamond who is soon to take the brightest and shiniest form that will allure everybody around". How do you get better at yoga? Practice. Your practice today could mean watching your reactions at work, or while standing in line at the grocery store. Always feel free to consult our instructors; they are available to share love and energy with all of our clients.

Sometimes when we do a lot of body workout we forget how important our mental health is too. While doing meditation you can see what the world has to offer. Along with the wonderful spiritual and emotional benefits of learning meditation, there are many physical benefits you'll enjoy as well. The most common is reduced stress and decreased muscle tension.
The benefits of a meditation practice are no secret. The practice is often touted as a habit of highly successful (and happy) people, recommended as a means of coping with stress and anxiety, and praised as the next-big-thing in mainstream wellness.
If you're not used to working out at home, it's important to designate a spot in the house that feels like a good fit for some movement. At times like this, we learn to value things more and what is more important than taking care of our body and our health. After all, staying home is not that bad as it sounds. Don't forget that you are preparing your body for hiking trips that you can book at Butterfly Outdoor Adventure.