It all starts with a phone call and then a follow-up with a virtual meeting because we had the feeling that we have so much to discuss about Kosovo's mountains, tourism, and women entrepreneurs. The leader of Butterfly Outdoor Adventure and also the professional mountain guide, Uta Ibrahimi, knows so much about Kosovo's mountains. She spent most of her time exploring the mountains of her homeland, and as a woman whose main mission is to promote the Kosovan natural beauties and tourism, who better than Uta knows the struggle and difficulties that the women entrepreneurs in tourism face.
This fruitful meeting leads us to many ideas for empowering women entrepreneurs and further development in tourism. We decided to visit the guesthouse "Ariu" in Rugova of Peja and met the owner Fetije Nikqi.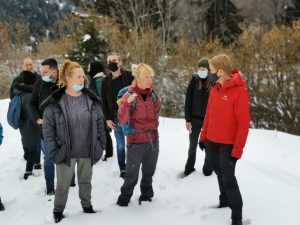 Fetije Nikqi started cooking for foreign tourists in 2006-07, and up to this day, she hasn't stopped passionately offering the abundance of traditional food and welcoming tourists from all around the world, while they stay and hike in the lovely mountains of Rugova.
It was very challenging at the beginning- Fetije says. Most of the neighbors didn't believe that she would make it and now the same people ask her for help when it comes to cooking for foreigners. They've been inspired by her and unlocked the potential of their community through her activity. Luckily for Fetije, her husband Mr. Mustafa, and her family believed in her and supported her all the way. Now they own a beautiful guest house named ''Ariu'' with the potential of welcoming more than 20 guests.
Women of Kosovo have a lot of will to work, they just need the right person to recognize and support them in order to grow and shine, Mrs. Fetije is proof that Kosovo has a big potential to develop tourism, especially mountain tourism, and it is the women of Kosovo who are increasingly helping its growth and promotion with the support of UNDP Kosovo, SwissContact, and Image of Kosovo.
Kosovo has a lot more persistent and hardworking women who are determined to promote the beautiful mountains, we invite you to stay tuned for more exciting news about the Kosovan women entrepreneurs in tourism.