Three years ago, when I decided to climb big mountains, I wanted to find a way how to live and train.
After climbing Mount Blanc, I went back to the office, had a very good job in one of the best marketing strategy teams in Kosovo. But, I realized that I can't be in an office anymore…
I took some more days off and I went cycling in Albania, Montenegro and Kosovo. I was alone, had just my bike, a tent, a sleeping bag, and some food.
I met amazing people everywhere, locals and foreigners.
During this time, I felt happy like never before… just being on my bike, or hiking in the mountains… and breathing. I really wanted to keep doing this, but I had to earn money and live somehow.
After this trip, I went back home, quit my job and started to guide other people in the mountains and then I decided to open my own business.
January 2016, 3 years ago.
This was the time when no one supported me. No one believed on my ideas and my baby Butterfly Outdoor Adventure. I first started with hiking and yoga. Perhaps it was the first time in Kosovo that something like this, something more creative, was being offered…
In my first tour, I had only 7 people. All of them were my friends who wanted to help me.
I tried hard to promote hiking and yoga in Kosovo and, at the same time, to promote Kosovo as a tourist destination abroad.
May 2015
Together with Petrit Riza, I had a chance to organize and guide outdoor activities for a journalist and several tour operators from various countries around the world. During that time, I was also working as a Project Manager for Via Dinarica.
After this tour, the first story on Kosovo's outdoor activities was published on National Geographic. They had mentioned my name, my company, and my picture was published on the cover.
This was the beginning of our journey.
From that time till on we have been guiding for the biggest magazines around the world.
Lonely Planet (several times), Lufthansa Magazine, Wizz Air Magazine, Wanderlust, Paste Magazine, The Guardian, etc.
From that time, I have been promoting healthy life to people in Kosovo by offering monthly tours of hiking and yoga.
Now we continue having clients from all over the world and in the meantime we have more than 15 guides and yoga teachers – both local and international.
Edis Krusha Nehari Driza Ilir Himaduna Valon Zeqa Sokol Kelmendi Mrika Nikqi Aargjent Berberi, Briks Yoga, Jehona Xhaferi, Driada Matoshi, Jonada Jashari and many more …
Besides that, we have contracts with tour operators, we have 15 bike tours, camping and yoga gears for 25 people, climbing gears, and above all, we have the LOVE for our mountains and outdoor activities.
We started our business just because we love our country and this is our way to help this part of the world get better.
The most important thing is that we wouldn't achieve any of these without the support of my dear loving friends during all this time.
They are a lot, but the ones that I want to thank from the bottom of my heart are:
Zymantha Hox for creating the identity of BOA, Refki Morina, for being available all the time and for his efforts to make the company get better and better, Armend Zeqiraj and Fisnik Aliu for the website, Lum Ademi for his amazing work on finances and for organizing the company, Christine Devlin and Arta Ibrahimi, Chad Briggs, for organizing tours and for communicating with clients in such a kind and professional way, and most of all, Alex Crevar.
Alex, you made me believe that Butterfly Outdoor Adventure will fly high one day. You inspired me so much to work harder and besides this, you started to promote Balkans even then no-one had any idea about this part of the world.
This is a very special moment in my life.
My company is blooming and my career as an alpinist is becoming known in the world…
I feel blessed to have been surrounded by great people in my life. Thank you from the bottom of my heart!
Cheers for 3 and many more!
Uta Ibrahimi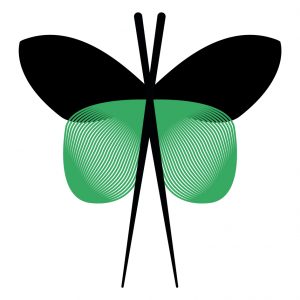 0